This article is about the webseries. You may be looking for the winner of the Miss Earth 2059 competition.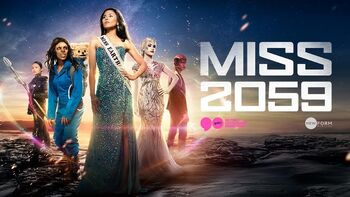 Miss 2059 is an original Go90 sci-fi/comedy series based on Anna Akana's short film Miss Earth (2014). The series is produced by New Form Digital and Alpha Studios (II), and was nominated for three Streamy Awards.
Akana stars in the series, executive producing for 12 episodes.
The first episode premiered on June 21, 2016.
Rating: TV-14
Premise
In the year 2059, beauty queen Victoria Young is tired of living in the shadow of her sister, a world famous military hero. But when Victoria is mistakenly beamed into space in her sister's place, she finds herself representing Earth in a deadly galactic tournament with the fate of our world hanging in the balance[1].
Cast
Season 1
Season 2
Characters
Videos
Nominations & Awards
| Nominee | Award | Win |
| --- | --- | --- |
| Streamy Award | Best Action or Sci-Fi Series | No |
| " | Best Actress - Anna Akana | No |
| " | Best Costume Design - Jennifer Newman | No |
References
↑ Plot summary of Miss 2059. IMDB, https://www.imdb.com/title/tt5822812/?ref_=ttmi_tt